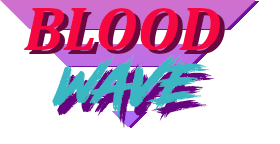 BloodWave
WHAT A MESS.
You grip your bolter pistol with white knuckles, staring at the carnage before you. Blood-soaked demonic hordes of all shapes and sizes fill the cavernous hall, in various states of dismemberment--both by your hand and theirs.

You've fought well, to get here. Fought even harder to survive, now that you've reached the deepest pits. A deadly dance of energy blasts and fireballs, of missiles and soul-rending spells. All because of one thing--one piece of glorious technomancy, carnage incarnate.

The Blood Wave Device.
And now--now that you have it in your hands, its awful power radiating in bursts of red light, itching to rend your foes into dust, to boil their blood 'till it becomes fresh lead for your guns...

Now all you gotta do is not die.
BloodWave pits you and an arsenal of flexible, powerful guns against armies of wicked monsters. Blast them apart with the Coil Carbine and Coil Repeater, turn them to gunpowder slag with the Thermite Grinder, or shred them with a hail of micro-missiles from the Macross Cannon. Use the Photon Accelerator Cannon to hose down a massive horror with brilliant light, or wield the mighty Undertaker and mow down armies.

Only the strongest can master BloodWave. What A Mess.

What Is BloodWave?
BloodWave is a Doom mod that draws inspiration not only from the good old days of Quake's simplicity, but also from the resource-management power fantasy of Doom Eternal. Items in the map will give less ammo, but you can recover ammunition using your Bolter Pistol--or with the power of the Blood Wave Device, or the Undertaker's unholy blasts. You'll find healing easier, with health bonuses and armor bonuses giving way more--but be careful, 'cuz overheal and over-armor will decay slowly. You must constantly balance between blasting away with your guns and building your ammo supply back up, if you want to succeed.

Features:
7 brutal weapons, plus the Blood Wave Device!
Nasty remixes of classic Doom monsters keep you on your toes!
Tradeoff-based gameplay! Do you burn through ammo to build up overheal, or butcher them with the BWD to stock up on ammo? Stagger them for armor shards, or use the Thermite Grinder to set up a crowd kill?
Runs just fine in 320x200 for the authentic retro shooter experience.
Make sure you have these controls bound:

Movement keys (WASD recommended)
Primary Fire (Mouse aim recommended)
Use Item (fires the Blood Wave Device)
Designed to work with FreeDoom, FreeDoom 2, Doom, and Doom 2. Screenshots taken with FreeDoom and Compendium.
Check out the source code on GitHub!

Download
Click download now to get access to the following files:
BloodWave (Just The Mod File)
1 MB
Bloody Mess EZ Pack (Windows)
35 MB